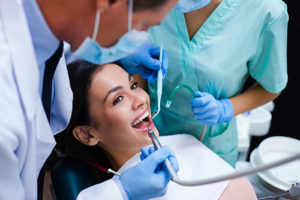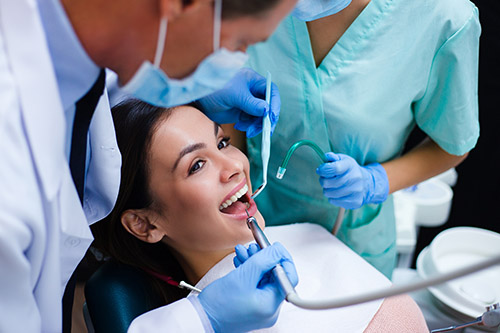 Lovett Dental Pearland offers teeth cleaning and dental exams for adults and children who need dental care. Contact us today to schedule local teeth cleaning. Our board-certified dentists offer comprehensive teeth cleaning and dental exams to improve the look of your teeth and boost their performance.
We specialize in preserving all areas of your oral cavity, including your teeth, roots, jawbone, and gumline. No matter how young or old you are, it is never too late to get teeth cleaning. To find out more about our teeth cleaning and other dental services, call our dental office, and schedule a free consultation.
We can answer your questions, discuss your options, and get you started with an oral dental exam. At Lovett Dental Pearland, we make it easy to keep your teeth in excellent shape.
Dental Exams We Offer
Before you get teeth cleaning, we recommend that you undergo a full dental exam. We perform a variety of dental exams, such as:
Tooth Decay Exam: Years of abuse or neglect can lead to deterioration of your teeth. We perform a tooth decay exam to look for signs of decay or similar problems. Fortunately, we can remove any teeth that are affected by decay. We can then go over options for replacing your teeth.
Diagnostic X-Rays: Using diagnostic x-rays, we can identify a range of dental, medical issues such as tooth decay, tumors, deterioration in the jawbone, or any other problems. X-rays also allow us to look at the position of your teeth and the roots around the cavity. We can make a more accurate diagnosis by using this advanced technology.
Gum Disease Evaluation: When plaque builds up on your teeth, it can lead to periodontal disease (gum disease). With professional dental work, gum disease is treatable. An evaluation includes exploring your gums and surrounding tissue to identify signs of periodontal disease.
Oral Cancer Screening: Oral cancer can be difficult to trace during its early stages. You may feel slight irritation or pain. Eventually, the condition worsens. An oral cancer screening gives us the ability to identify cancer in its early stages. We look at your throat, face, gum tissue, and lips, tongue, and neck for any signs of cancer.
Teeth Cleaning Service
Teeth cleaning may include different levels of care, such as standard cleaning or deep cleaning. We remove heavy plaque buildup that can damage your teeth or gumline. Our teeth cleaning procedure covers:
Plaque Removal: Plaque produces harmful toxins that can damage your teeth and gum tissue. Since plaque is sticky, it does not take long to build up in your oral cavity. If it has been a while since your last visit to Lovett Pearland, a teeth cleaning can give your mouth and teeth a fresh start.
Tartar Removal: As plaque continues to build on your teeth, it eventually leads to hardened calculus (tartar). The calculus accumulates around your gum line. Removing the tartar requires a deep cleaning that includes scaling your enamel. We can go deep below the gum line to remove all calculus.
Teeth Polishing: Once we remove all harmful plaque and calculus from your teeth during your teeth cleaning, we finish off with a full polishing. Polishing your teeth restores their look and smooths out the enamel. Your teeth will also feel better. You will love the results!
Schedule a Teeth Cleaning at Lovett Dental Pearland
If you don't like the way your teeth look or feel, then schedule teeth cleaning at Lovett Dental Pearland today. We offer full teeth cleaning and other dental services for both adults and children. Some of the other services we offer include:
We can help you get back your vibrant smile with teeth cleaning. To schedule a free consultation, call us at 281-416-5844.