At Lovett Dental Pearland, we know that the foundation for a beautiful smile, healthy gums, and strong teeth starts with regularly-scheduled dental exams. Many dental issues can be caught and treated early when everyone in your family makes and keeps their appointment for a routine dental exam. Don't wait for bleeding gums or a loose tooth to bring you into Lovett Dental Pearland. Get the most out of your dental insurance by taking advantage of dental exams and cleanings.
Signs You Need a Dental Examination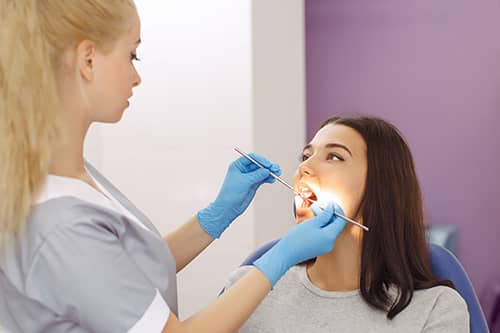 There are also times between the routine dental exam that is performed annually that you may want to have a dental examination. Some of the signs that your teeth may be in need of a dental examination include:
Bleeding or inflamed gums
Loose or shaky teeth
Receding gums
Swollen jaw
Chronic bad breath
Chronic dry mouth
If you or someone in your family are experiencing any of these dental problems, call Lovett Dental Pearland to schedule a dental exam as soon as possible.
What to Expect at a Dental Exam
An annual dental exam at Lovett Dental Pearland in Texas typically includes an X-ray of your teeth, a visual inspection, along with teeth cleaning. The X-rays will clearly show any developing cavities, as well as if the gums are receding and if bone is being exposed. This indicates the early signs of gum disease or periodontitis. The visual exam of the mouth is used to confirm what the X-rays are showing and to detect imperfections in tooth enamel or tooth positions.
Our Lovett Dental Pearland office staff knows that some people are hesitant when visiting a dentist's office. That's why we go out of our way to ensure our patients are comfortable and know what to expect before your dental professional proceeds. Above all, we clean and sanitize surfaces between patient visits, so you never have to worry about safety precautions at Lovett Dental Pearland.
A dental exam is also a time to consult with your general dentistry team. At Lovett Dental Pearland, we want to know what issues you may be having, such as grinding your teeth or how to floss better. This is also a time to talk about any cosmetic expectations you have, such as whiter, straighter teeth.
Finally, a dental exam is also the perfect time to discuss how bad habits can affect the health of your mouth and the strength of your teeth. This discussion is necessary for those who enjoy sweet snacks, uses tobacco products, or engage in work or recreational activities that can injury the teeth.
Why Should I Choose Lovett Dental Pearland?
At Lovett Dental Pearland, we offer a full range of dental services and keep a staff comprised of general dentists and specialists, including cosmetic dentistry, endodontist, pedodontist, and orthodontists. Our dental exams are aimed at correcting current problems and preventing future dental issues. You can always speak with our staff to learn more about our preventative dental procedures, including teeth cleaning, dental sealants, and fluoride treatments.
We also believe in talking about good dental hygiene with our clients, so this is also a part of a Lovett Dental Pearland exam. Dentistry is one medical profession where the patient can significantly reduce the chance of disease or loss with proper instruction on dental care and daily maintenance.
At the dental check up your dental professional will check for cavities. X-rays might be taken to detect cavities between your teeth. The exam will also include a check for plaque and tartar on your teeth. Plaque is a clear, sticky layer of bacteria. If it is not removed, it can harden and become tartar. You cannot remove tartar with brushing and flossing. If plaque and tartar build-up on your teeth, they can cause oral diseases.
Schedule a Dental Exam at Lovett Dental Pearland Now
If you are in need of a routine dental exam in Texas, contact Lovett Dental Pearland to schedule an appointment today. Call 281-416-5844 now.