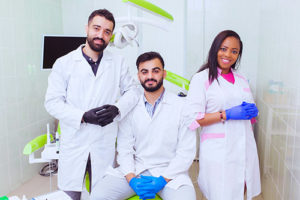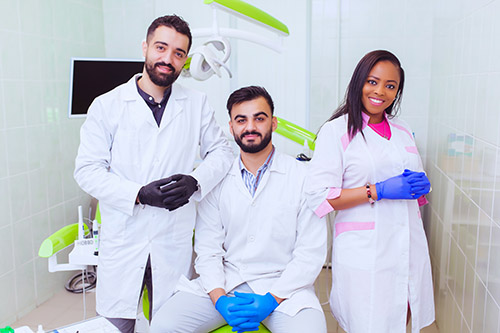 Lovett Dental Pearland offers an array of general dentistry services. Our dental services are designed to help preserve your natural teeth while also providing cosmetic and restorative options. Our board-certified specialists can keep your teeth looking and functioning great throughout your life.
Whether you need basic services like an oral exam or cleaning, or more advanced surgical procedures, we can meet all of your dental needs. To find out more about the services we offer, contact us to schedule a free consultation. We will match you with a great general dentist.
General Dentistry Services We Offer
From childhood through adult life, we will provide you a general dentist to help your every dental need or concern, such as:
Tooth-colored composite fillings
Root canals
Extractions
We also offer dental crowns & bridges, nightguards, and dentures.
Customized Care at Lovett Dental Pearland
Our general dentistry offers personalized service based on your particular condition and needs. Some of the dental work we perform includes:
Preventative Dental Services
Preventative services help maintain the quality of your teeth while keeping your dental costs low with general dentistry. Preventative services include oral exams, diagnostic services, and in-office or take-home teeth whitening. We also recommend that you schedule teeth cleaning at least twice a year.
Restorative Dental Services
Our general dentistry at Lovett Dental Pearland also provides services that repair and restore your teeth, gum line, and jawbone tissue. We treat tooth decay, cavities, periodontal disease, and gingivitis. We can also fit you with dental crowns and bridges, dental implants, bridges, or dentures.
Cosmetic Dental Services
Do you miss your vibrant smile? A general dentist can provide cosmetic dental services that include teeth whitening, cosmetic bonding, and dental veneers. Our teeth whitening services can brighten your teeth by up to six times their current color.
Oral Exams
General dentistry also includes routine oral exams. You should schedule an oral exam once every six months to prevent any serious issues from developing. Your Lovett Pearland dentist can assess your teeth and gums and identify any problems you may have.
General dentistry offers diagnostic x-rays, oral cancer screenings, gum disease evaluation, tooth decay exams, and regular checkups on existing dental work. So, if you have any fillings, dentures, braces, or crowns, we can look at them to ensure they are in good condition.
Pediatric Dental Care
If you are looking for dental services for your child, we can help too. We accept children as soon as their earliest teeth start coming in. Baby teeth usually erupt between six months and one year old. Pediatric dental care is an integral part of your child's oral development. Routine checkups and cleanings can ensure that your child's teeth develop and grow as they should.
As your child gets older, they may need braces. Our orthodontic specialists can provide custom metal braces or transparent porcelain braces for your child. We can also take care of any cavities that your child may have. Lovett Dental Pearland can meet your child's needs into adulthood.
Schedule an Oral Exam at Lovett Dental Pearland Today
If you need dental work, you may not know where to begin. The best way to get started is to schedule an oral exam at Lovett Dental Pearland. You can schedule a free consultation with one of our dentists. From there, we can perform an oral exam and look at what work you need.
To schedule a general dental check-up, call us today at 281-416-5844. We can answer your questions, go over your treatment options, and begin work on your teeth.