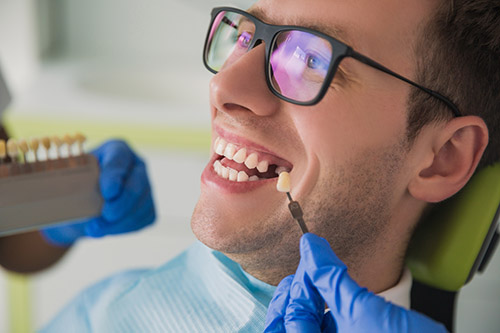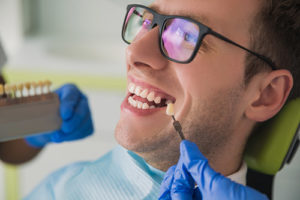 Are you looking for a long-term solution for replacing a missing or damaged tooth? Lovett Pearland offers dental implant services. Implants provide comfort, functionality, and durability. We custom design all implants to match your natural teeth in both size and color.
Best of all, dental implants are easy to clean and maintain. You brush, floss, and use mouthwash like you do all of your other teeth. We also recommend regular visits to your Lovett Dental Pearland dentist. To find out more about dental implants, contact us today at 254.275.6542. We offer a free consultation on your first visit.
What are Dental Implants?
A dental implant is a titanium post that we insert into your jawbone. The purpose of the post is to provide support for the replacement crown or bridge. The post fuses with the bone and creates a permanent fixture. This fusion typically takes three to six months. The implant replaces the root of your missing tooth.
Once the post fuses, we place the crown on top. The crown looks like a real tooth. It matches your current teeth in both size and color. Although the entire procedure is a bit lengthy, it also offers a more permanent solution to missing or damaged teeth. Dental implants can last 10 to 15 years. The success rate for dental implants is also over 98%. They are dependable and low-maintenance.
Are You a Candidate for a Dental Implant?
Whether you have one tooth or several teeth missing, a dental implant can give you a full set of teeth once again. While there are other solutions such as dentures or bridgework, dental implant services are far more effective.
Are you a candidate for dental implants? The answer to that question depends on factors such as:
Where is the gap in your mouth
The quality of the jawbone where we place the implant
The amount of tissue that can support the dental implant
Your overall health and physical condition
Your budget
We also take your preferences into account. Your Lovett Dental Pearland dentist will meet with you to discuss all of your options. We will recommend the best option depending on your condition.
Benefits of Dental Implants
Dental implants services present several benefits, including:
A natural look that matches your teeth means you can't tell the difference.
Since implants last over a decade, they are a real investment.
Improve your ability to chew on tough foods.
Protection for your gum line and jawbone tissue.
Low maintenance – just basic brushing and routine doctor visits.
At first, your dental implant will take some adjustment. You may feel some slight discomfort or even a bit of pain. However, it won't take long for you to recognize all of the benefits of dental implant services. You will especially love how well your implant performs when you are eating meals.
How to Care for Your Implants
Although dental implants can last over a decade, they do require some basic care. If you neglect your dental implants, then they may not last as long as they should. The best way to care for your implants is to brush your teeth twice a day, floss every time you brush, and rinse with an antibacterial mouthwash.
Dental implant services also include a visit to the dentist twice a year for a dental checkup. We will assess the implants to determine if there are any problems. If you treat your teeth well, they will provide years of excellent performance.
Schedule Dental Implants with Lovett Dental Pearland Today
If you would like to find out more about dental implant services, contact Lovett Dental Pearland today. We offer complete dental services for all your needs. Schedule a free consultation by calling us at 254.275.6542.